Honorable Richard Mays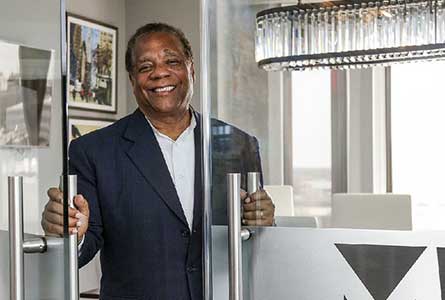 Retired Arkansas Supreme Court Judge, Civil rights advocate and attorney
---
Statement Highlights
"I've never seen an instance [before this] where the system threw away its credibility purely for the purpose of convicting a defendant."

"The system has to investigate this, irrespective of the motions that have been made by the defendant. There is a responsibility for the leadership of the Justice Department to look deeply into these facts, especially since these allegations are by one of the most credible and experienced employees [in the FBI]…we can't ignore what Dr. Kiper has stated [about the tampering he discovered]."
Bio
Lawyer and judge Richard Mays, Sr. was born on August 5, 1943 in Little Rock, Arkansas to Dorothy Mae Greenlee and Barnett G. Mays, a restaurant owner and real estate developer. Mays graduated from Horace Mann High School in 1961, and earned his B.A. degree in political science and business administration from Howard University in Washington, D.C. in 1965. Mays then received his LL.B. degree from the University of Arkansas School of Law at Fayetteville in 1968, where he was the only African American in his graduating class.
In 1968, Mays worked as a trial attorney in the organized crime division of the U.S. Justice Department in Washington, D.C. He soon returned to Little Rock to work as a deputy prosecutor for the sixth judicial district in Pulaski County, making him the first full time African American prosecutor in the district's history. In 1971, he joined the law firm of Walker, Kaplan, and Lavey, the first racially integrated law firm in Arkansas. From 1973 to 1977, Mays also served in the Arkansas General Assembly. He was among the first group of African Americans to serve in the Arkansas General Assembly in the twentieth century.In 1977, he co-founded the law offices of Mays, Byrd & Associates. Arkansas Governor Bill Clinton appointed Mays to the Arkansas Supreme Court as an associate justice in 1980, and that same year, he became an adjunct law professor at the University of Arkansas Little Rock William H. Bowen School of Law. From 1992 to 1996, Mays was the national co-chairman of the Clinton-Gore Presidential Inauguration Committee, raising over $1 million as a fundraiser. In 1993, Mays became the senior vice president of Cassidy & Associates. Mays also served as a consultant at CMS Energy and facilitated a contract with Ghana to develop a power plant. From 2005 to 2015, he served as vice chairman and chairman of the Arkansas Claims Commission. In 2013, Mays became the chairman of the board of directors of Soul of the South, a television network focused on African Americans and Southern culture.
Mays served on the Arkansas Economic Development Commission, The Arkansas Ethics Commission, and the Arkansas Banking Board. He also served on the U.S. South African Business Development Committee, and on the board of directors of the American Judicature Society. Mays was honored by the Arkansas Civil Rights Heritage Trail in 2015, and inducted into the Arkansas Black Hall of Fame in 2016.
Mays is married to Supha Xayprasith-Mays, and has four children, Richard Jr. and Tiffany, who are also practicing attorneys in the Little Rock area as well as Dr. Kimberly Smith, an orthodonist in Chicago, and Dr. Latisse Stovall, an emergency room physician in New Jersey.